These Violent Delights by Chloe Gong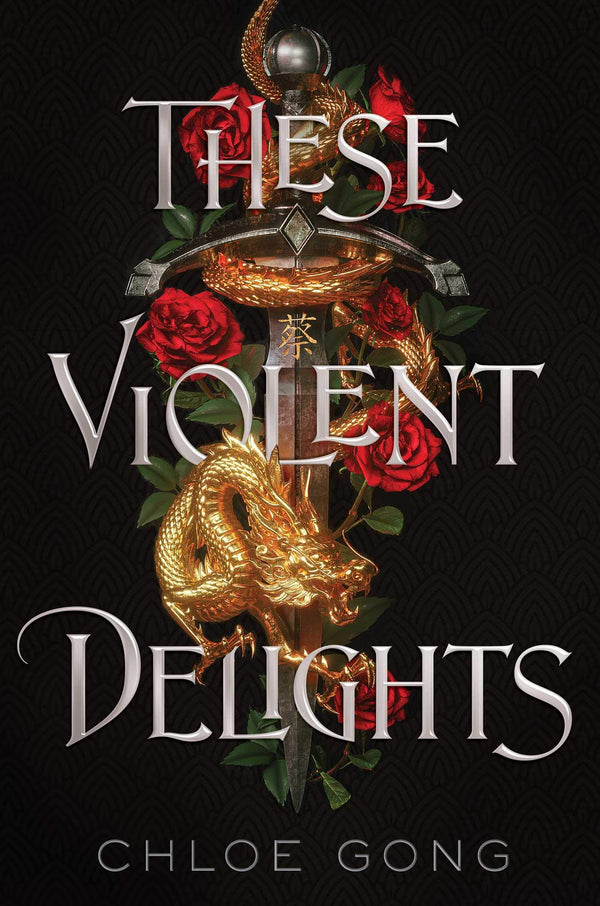 For a variety of reasons, I do not like "Romeo and Juliette".I don't consider it romantic, don't care for the Shakespearean humour or the language, and can do very well without it thank you very much. For the record - I'm also not a fan of "Pride and Prejudice. I did, however, immensely enjoyed a 2016 movie retelling: "Pride and Prejudice and Zombies" (don't judge me).
So... "Romeo and Juliette" in 1920s Shanghai? And there's a monster? Count me in!
Huge thanks to NetGalley and Hodder & Stoughton for helping out and providing me with a copy.

Let's start with the blurb:
The year is 1926, and Shanghai hums to the tune of debauchery.
A blood feud between two gangs runs the streets red, leaving the city helpless in the grip of chaos. At the heart of it all is eighteen-year-old Juliette Cai, a former flapper who has returned to assume her role as the proud heir of the Scarlet Gang-a network of criminals far above the law. Their only rivals in power are the White Flowers, who have fought the Scarlets for generations. And behind every move is their heir, Roma Montagov, Juliette's first love . . . and first betrayal.
But when gangsters on both sides show signs of instability culminating in clawing their own throats out, the people start to whisper. Of a contagion, a madness. Of a monster in the shadows. As the deaths stack up, Juliette and Roma must set their guns-and grudges-aside and work together, for if they can't stop this mayhem, then there will be no city left for either to rule.

The story begins with a bang. Or more precisely - with a touch of madness that makes members of both Scarlet Gang and White Flowers tearing their own throats out. We're getting a glimpse into the main plot driver and taste of how indiscriminate the condition is - it doesn't matter how powerful is the side you're on. In the end, you will be your own worst enemy.

The main characters, in my opinion, were more interesting than their original counterparts. Roma and Juliette are multidimensional. Smart changes in perspective help to understand their point of view, motivations, and pain. It's not easy to be an heir to the empire built on blood, bribes, and brutal determination. To a bystander, their positions in family ventures are unshakeable. Still, one slip is enough to strip them of their influence, power, and even their lives. Their romantic past fuels their determination and their hatred. However, despite the better judgement of the head of their gangs, they understand the need to work together. There's hope for the new generation.

Despite such a power behind the two protagonists, the other characters are not remaining in their shadows. Their portrayal makes it clear that gang life comes at a price, and any influence is a fickle affair. Kathleen, Rosalind, Benedict, and Marshal are capable, strong, and compelling. Arguably, I enjoyed their parts more than the main protagonists - with less responsibility for the main plot come opportunities for more freedom of expression, if you will.
I would hope that we'll see more of them in the sequel, should there be one.

The real star of the book, though, is Shanghai. A melting pot of cultures, influences, and opposing powers. A city that never sleeps. A city that is crowded, lavish, filthy, decadent, wealthy and very poor, Chinese and colonial, and it seduced me. Chloe Gong's writing emanates the tensions and power struggle throughout the city, and it feels as if Shanghai burrows deep under your skin.

Chloe Gong's story makes a few nods toward the original: the balcony scene, the potion, the dagger, to name a few. They are used in a slightly different way, but they fit perfectly. Look for these "easter eggs"!

The book has all the right elements: great setting, feud fuelled by generations of hatred, well-crafted characters, gripping action. To me, it fell a bit short towards the very end, during the "boss fight" (there is a monster - of course, there was a boss fight!). When the majority of people influenced by the madness is ripping their throats off, the one man, by the sheer power of will, managed to constrain himself just long enough for strategic events to occur. And what's up with grazing big bugs with bullets?

The ending a bit spoiled the story for me. But it's fair to say that this retelling is better than the original. If you're a fan of gangsters, monsters, and compelling narrative - Chloe Gong's These Violent Delights may be a perfect treat for the long winter nights.
-----
These Violent Delights on Goodreads