Pawn's Gambit by Rob J. Hayes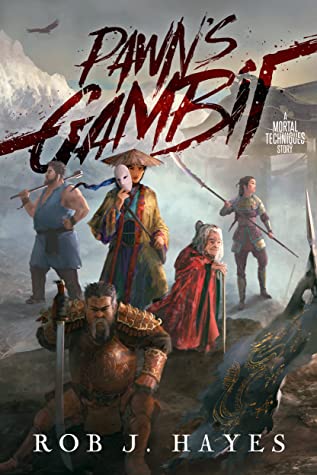 As a reviewer and a professional reader, I come across many books. "Never Die" seduced me with a one-line-long prologue (full review is under
this link
), and the most significant part of the criticism was how short the story was.
Due to popular demand, Rob decided to take us back to the Mortal Techniques' world. I want to thank him for the opportunity to return to Hosa, as well as the ARC he provided me with in exchange for my opinion.
"Pawn's Gambit" is a standalone novel, but Rob included a fair amount of Easter Eggs in the story. Therefore, reading "Never Die" beforehand will add more depth to the world.
The blurb:
"Five years ago, Yuu made a mistake that cost her everything. Once a renowned strategist and general, now she is on the run, royal bounty hunters snapping at her heels. But what if there was a way to get back what she lost, a way to bring back a murdered prince?Once a century, the gods hold a contest to choose who will rule from the Jade Throne. Each god chooses a mortal champion, and the fate of heaven and earth hangs in the balance.On a battlefield full of heroes, warriors, assassins, and thieves can Yuu survive long enough to learn the rules of the game, let alone master it?"
Once a century, gods decide who will rule from the Jade Throne in the way of a contest. Those who wish to participate, sacrifice something dear to them and choose their mortal champion to compete in a deadly scavenger hunt for divine artefacts. The winner will then decide the fate of the realms.
The story follows Yuu, a guilt-ridden strategist and former general, who hides from her past in a bottle. Yuu, who was previously known as Art of War, is chosen as a champion by Natsuko, goddess of lost things and missed opportunities. She wants to overthrow the current ruler, the god of war, whose rule soaked the world in blood.
As an avid reader of Rob's previous works, I'm used to his vivid characters. Pawn's Gambit is no different. Yuu struck a chord for me - a middle-aged woman, wearing scars of her past and her decisions.
"Middle age seemed to have snuck up on her overnight and given her the ass-kicking she so rightly deserved".
I've found her very compelling - a capable and broken woman, stuck between her thoughts and a bottle that numbed them, can change the fate of the world armed with nothing but her technique and incredible intellect.
Goddess Natsuko is a very nuanced being, and I loved how her relationship with Yuu develops through the pages. Gods are never easy to deal with, and usually, they have little regard for human life. To win the contest, Natsuko needs Yuu far more than she lets on. The stakes for her are higher than for any other god entering the competition. Her doubts and Yuu's behaviour and coping mechanisms make her a hilariously cranky old hag, but there's more to her.
I could say a lot about secondary characters, each playing their uniquely important part in the game, but the one I am fond of the most is an old horse, which Natsuko named Lump. I've found the snappy old beast incredibly endearing and adorable.
When it comes to narrative, the dialogue is a solid element of it. Hayes can bring out the nuance of the situation without overloading it with heavy exchanges between participants. It also highlights the humour and makes characters more human.
If you haven't read "Never Die", you will not be lost in the story or the world. The number of details of the worldbuilding will give you an excellent idea about the environment and lives of characters inhabiting it. Readers familiar with the setting will not be bored by the "repeated introduction". Instead, they will find more insight into different mortal techniques and how characters can acquire them.
Another element of the book I enjoyed is the plot. Similarly to "Never Die", the story revolves around a quest from a god. However, the main character is not a fighter and relies on others' physical strength when facing direct threats. Despite that, there are plenty of epic duels for readers to enjoy. The action sequences are entertaining and gripping, and I've found myself biting nails on many occasions.
The book is not very long, but in just over 300 pages it manages to include daring escapes, vindictive gods, the horrors of war, burdens of legacies, and complexity of human nature. All of that wrapped in storytelling that makes Rob J. Hayes such a recognisable name on self-publishing stage.
And speaking of the wrapping - the cover art is impressive, and its style perfectly ties the book with previous Mortal Techniques story.
-----
Pawn's Gambit on Goodreads