Dead in Dublin by Catie Murphy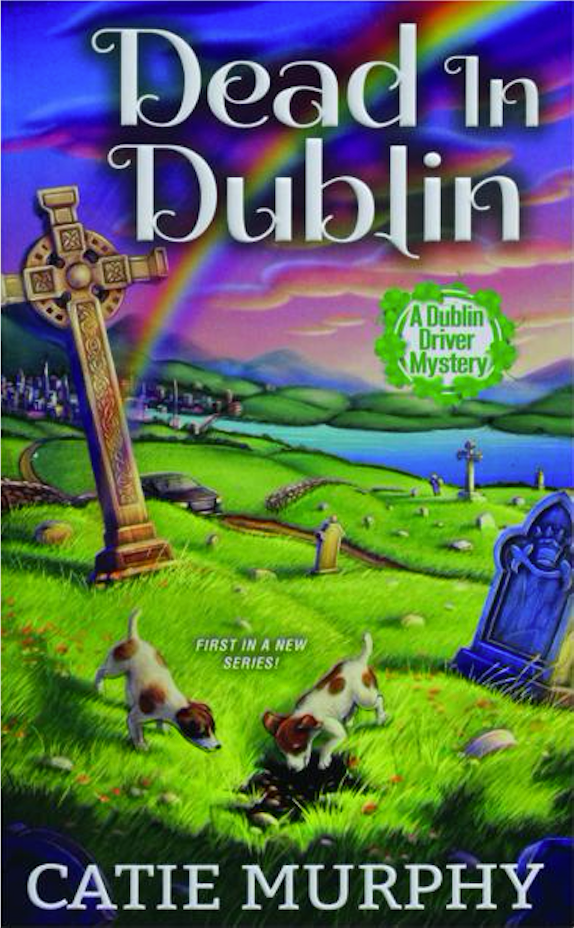 Catie Murphy may seem like a new name on the writing scene. However, the person behind this pen name is a well-known author of fantasy and action romance - C.E. Murphy. She has over 30 books under her writing belt, and Dead in Dublin is the first novel in a new cosy mystery series - The Dublin Driver Mysteries.
The blurb reads:
"Ferrying tourists around Dublin for the Leprechaun Limo Service makes quite a change after years in the military. Still, Megan Malone is enjoying her life in Ireland. She likes the scenery, the easy pace, the quirky, quick-witted locals. Everything--except having one of her clients drop dead at the statue of fabled fishmonger, Molly Malone.
Most restaurant critics notch up their share of enemies. Elizabeth Darr, however, was a well-loved international star. She and her husband, Simon, had just had dinner when Elizabeth collapsed, and spoiled seafood is the first suspect. The restaurant's owner, worried her business is doomed, begs Megan to look into it. Between her irate boss and a handsome Garda who's both amused and annoyed by her persistence, Megan has her hands full even before she's cajoled into taking care of two adorable Jack Russell puppies (which she is almost definitely not keeping). But if cockles and mussels aren't to blame, can Megan find the real culprit . . . before another fishy death occurs?" 
The main character is Megan Malone - a limo driver, a veteran combat medic, an American living in Dublin, and one hell of a woman.
When her customer drops dead through suspected food poisoning, driven by compassion for a grieving husband, and friend who may lose her business, she does what's in her power to find the answers. 
Megan is an intriguing and likeable persona. Armed with her kindness and wits, and with a bit of luck, she unfolds the mystery behind Elizabeth Darr's untimely departure.
As with every good cosy, she's not alone in her efforts. Her friend Niamh, cream of Irish acting scene and gossiper extraordinaire, helps Megan get information from hardly accessible sources. Fionnuala, the restaurateur involuntarily involved in the unfortunate affair, is one of her driving forces and sounding board for the protagonist.
My favourite character, however, was Garda Burke. His appearances often caused a mix of awkwardness, endearment, and amusement into interactions between him and Megan. This brought back memories with all the cosy mysteries I used to love - Father Dowling Investigates, Death in Paradise, or Miss Fisher's Murder Mysteries.
One of the defining characteristics of the genre is the location - idyllic towns and villages, exotic beaches, etc. The star location of this story is Dublin. To someone who lived and worked there for almost ten years, Dead in Dublin is a nostalgic walk through the well-known heart of the city. In the author's notes, Catie admits that she has taken a few liberties when it comes to the geography of the events, though they are minuscule and the feel of the place remains unchanged. Some of them no longer exist, like Accents, but most of them can still be visited thanks to miracles of modern technology.
The writing is perfect for the story - it flows well, is engaging, and held my attention. As expected from a veteran wordsmith, the mystery is crafted well. I may be one of the readers who are rarely able to figure out whodunnit, but I had fun trying to figure out "the case". The book is not long, and the action moves fast, which makes it a perfect read for a busy bookworm.
Dead in Dublin reminded me how much I love cosies and took me on a nostalgic trip down the memory lane. If you are a fan of this genre, I would recommend giving this series a try!
-----
Dead in Dublin on Goodreads