Bones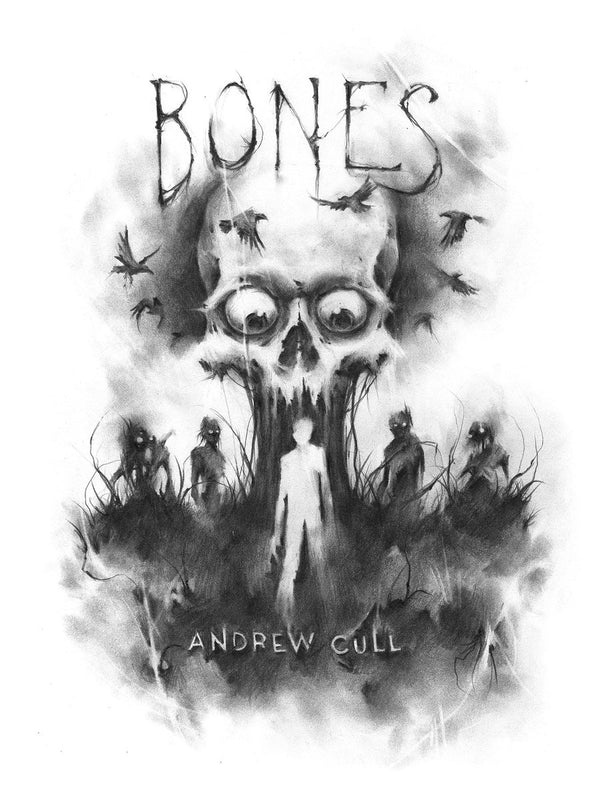 I have a confession to make - I am not a horror fan. It's not because I think that this genre is somehow... lesser. It is purely based on the fact that I have quite an active imagination, and, if the horror is written well, it will keep me awake at night. The fact that I live alone in a creaking house may have something to do with this as well.
This was not a planned read; it was a love from the first sight with the artwork when I spotted the book on Twitter during the #AuthorsForFireys initiative in January 2020. Andrew Cull posted a copy of a limited edition of this book up for auction, and Chad Wehrle's cover immediately caught my attention - the haunting, unforgettable prelude to what's hiding inside the pages. 
"Bones" is a collection of four short stories (five - if you count the flash-bonus The Rambling Man hidden at the very end). The stories are (worry not - no spoilers ahead!):
Did You Forget About Me?
When Cam's estranged father passes, he returns to his childhood home to find closure and something that's been waiting a long time for his return. 
This story one hell of an opening to the collection!
Hope & Walker
Em's father runs a funeral parlour in a small town. She likes to sit up with the dead and draw them. She never expected to find herself in the middle of a terrible crime, but she may be uniquely suited to find answers. 
The Trade
One summer, a family is facing a threat of a dismantling marriage and gore offerings left at their doorstep.
Knock and You Will See Me
After Ellie's father passes away, she and one of her sons begin finding handwritten notes from him. 
It is the longest of the stories, but for a good reason. 
The Rambling Man - bonus story
A village must send out girls as offerings to a beast in the woods twice a year to prevent crops from dying.
Each of the stories is different and have a unique climate. They have something in common, though - the richness of visual descriptions and masterfully crafted tension. Andrew Cull understands how to employ the readers' imagination and play on their senses - his storytelling, from the opening sentences until the grand finale of the stories, has no weak spots.; it's terrifying, heartbreaking, nostalgic. It makes you turn the light on before entering the room and to ensure the windows are closed at night. 
"Bones" is a perfect example of a self-published book done right — a gripping content in a well-executed package. I particularly loved the finishing touches in the form of a postcard with cover art from his novel "Remains" and Chad Wehrle's business card (as beautiful as the cover for "Bones" he designed).
If you like to be scared, this is a true treat!
I'm not a fan of horror stories, but I loved this collection of monsters. Would I read more stories by Andrew Cull? Absolutely, but only in the daylight...
-----
Bones On Goodreads