A Tomb With a View by Peter Ross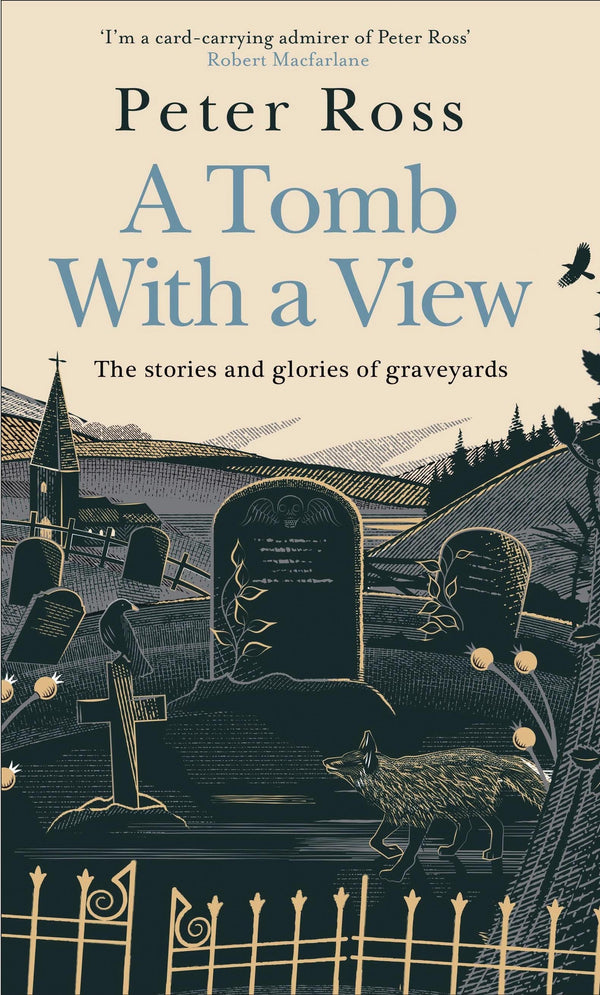 They say that you shouldn't judge a book by its cover. The good news is - no one mentioned anything about picking a book by one. That's how this title caught my eye: "The stories and glories of graveyards".

The blurb reads:
"Enter a grave new world of fascination and delight as award-winning writer Peter Ross uncovers the stories and glories of graveyards. Who are London's outcast dead and why is David Bowie their guardian angel? What is the remarkable truth about Phoebe Hessel, who disguised herself as a man to fight alongside her sweetheart, and went on to live in the reigns of five monarchs? Why is a Bristol cemetery the perfect wedding venue for goths?

All of these sorrowful mysteries - and many more - are answered in A Tomb With A View, a book for anyone who has ever wandered through a field of crooked headstones and wondered about the lives and deaths of those who lie beneath.

So push open the rusting gate, push back the ivy, and take a look inside..."

I'm not entirely sure what I was expecting. Probably something between a spooky tale and a journalistic presentation of facts. What awaited me was so much more than that.

I'm not a huge taphophile. I never had any particular interest in visiting old cemeteries just for the sake of going there. Over the years, I visited a few of them as a part of bigger tours. The oldest one is the Glendalough monastic site, but Dublin's Glasnevin and Edinburgh's Greyfriars are the most notable ones I touristed upon.
I always considered them a place of personal contemplation and grief. As such, it felt more appropriate to leave them undisturbed.

In the comfort of my own home, Peter Ross took me with him on a journey through great urban necropolises, like London's Highgate and Kensal Green or Glasnevin, to a lesser-known tide-hidden resting place of Lilias Adie - a victim of Scottish witchcraft panic from 1704.
Author tactfully interweaves facts about the cemeteries with personal stories hidden behind the names on stones: Kensal Green's Medi Oliver Mehra, Malmesbury Abbey's Hannah Twynnoy, St Nicholas Churchyard's Phoebe Hessel, or Shane MacThomás, whose life, death, and what follows after, is tied to Glasnevin and its history.

Cemeteries are also for the dead and the living alike. Speaking to Highgate's gardener and stonemason, and Haji Taslim Funerals is an intimate glimpse behind the curtain on the everyday life of burials.
Another aspect is that of belonging - to a community or to a place. Like countless residents of Crossbones, participants of the Queerly Departed tour, or WWI fallen - they are not missing; they are here.

Ross' accounts are compelling, but without losing the empathy and tact. Like a good tour guide, he knows there is space for tears, but also for laughter, for grief and for a celebration of life, for grand monuments and for wooden crosses, for defiance and for reconciliation. All told with a hint of nostalgia for the forgotten histories hidden behind names and dates.
The book is also a meditation on a personal approach to mortality, burial customs, and what follows after.

Books should not be judged by their cover, but I reserve the right to judge them by how they make me feel.
A Tomb with a View made me feel anger, grief, and appreciation. It also allowed me to look at the tombstones from a perspective of legacies and remembrance they represent.
Thank you to Netgalley and Headline for the ARC.
-----
A Tomb with a View on Goodreads